Golf Practice Net or Golf Mat with Rubber Tee Bundle
£61.99
Swing Like A Pro and Win More Rounds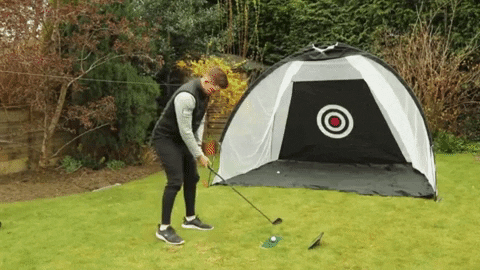 Boost Your Confidence On Any Club
We all have one or 2 clubs that we just aren't too comfortable with. Some of us don't do well with the 3 wood while others cant manage a 5 iron. Whatever your quirk is, the Golfy Practice Net will help you build confidence in any club in your bag.
The Golfy Practice Net is ideal for beginner and intermediate golfers. It offers a largely open Golf Net that reduces the chance of you missing and hitting the ball through a window. In the middle of the netting is a large target, perfect for practicing chip shots and more. Anyone who regularly practices backyard golf will know that you don't want a complicated setup process getting in the way of your progress.
Ultra Durable. Stylishly Lightweight
The Golfy Practice Net is portable, versatile and just the perfect size for your backyard, patio, man cave, or any other home space. With a high-caliber construction, its composition feels sturdy, reliable, and firmly fixed to the ground. Drive those power sots into the center and practice until you get it right. 
Stability Material Driving Range 
The Golfy Golf Backyard is made from a mixture of Oxford polyester and nylon netting. This Hitting Net is really designed for practicing low-intensity shots (like chip shots) but you could pull the nine iron out and give it a hammering. It will last forever. The weight of the fiberglass pole is one-third of the traditional iron pipe, which avoids the Golfyup Net to rust or deform.
Great Target For Driving
Getting a hole-in-one will no longer be a dream with the Golfy Home Hitting Net. It's super easy to assemble with a target in the center for accuracy practice. The durable carry bag equipped for the Golfy Golf Practice Net allows you to go to your favorite golf practice area freely and easily.
Fast Set Up. Easy To Use
Don't worry about loading up the car and driving to the range. With the Golfy Practice Net, you bring the driving range home. Make practice simple, easy, and fun by rolling out of bed and getting straight to it. It's the perfect way to warm up for the day and get the blood pumping all while practicing.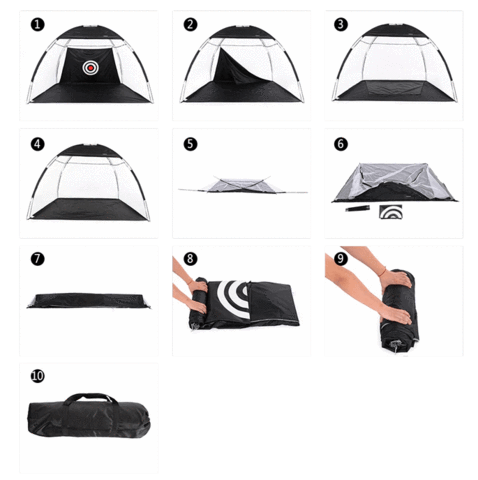 Durable Golf Target
The heavy material and high-impact printing make the target clearer to aim.
Sturdy SHook
Each Golfy Practice Net has 6 sturdy S-hooks hanging on the target for comfortable hitting.


Stainless Steel Pins
The anti-corrosion pins can stabilize the structure and adapt to indoor and outdoor.
Durable Fiberglass Rods
Made of high-quality fiberglass rod to effectively extend the life.
Package Content

 

1X golf practice net 
2X Fibreglass rods
4X Ground stakes
1X Carrying bag 
If you're serious about improving your golf game, you absolutely need this training tool. Not only is it portable, but it allows me to work on my golf game rain or shine. I get better every day, while my competition is sleeping - Aaron Wise